Please must see our machine video carefully about the difference with the other suppliers.
COMPARISON ITEMS

CISFUN

OTHERS

CHINA

Machine Working Action Part

CAM (no need maintenance and no wear and tear)

Pneumatic Cylinder

Speed in 1 main machine only

160~180 pcs/minute

50~60pcs/minute

Air Compressor

NO NEED

YES (8HP up)

Working power

6KW

>15KW

Factory Floor Space

Small (We make everything ALL IN ONE, so you just need only 1 machine for CF-1200C)

Big (Need 1 main machine to match with 2 or 3 ear band machines)

Consumables

Few

A lot

Assembly & Operation & Maintenance

Easy

Difficult

Maintenance Cost

Cheap

Expensive

Made in

Taiwan

Mix

China

Life time if run it 12-14 hours daily

Long

Short

Machine Price

Reasonable (But you can still Cost Recovery in a month)

Medium

Low
Finished product:
Feature: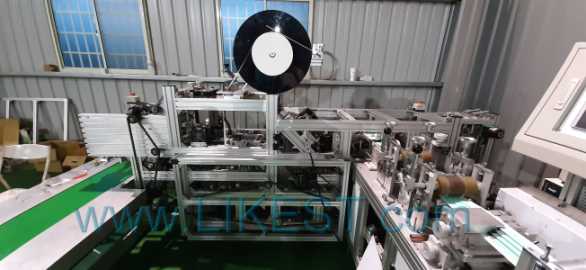 weld the ear band by "CAM" : We use the ˇ§CAMˇ¨ Design to weld the ear band (ear loop). It is Faster than Pneumatic Cylinder Design. We do not use Pneumatic Cylinder on our machine. So it is faster than the other suppliers.
Advantages: Our machine is designed and driven by CAM, not Pneumatic Cylinder. So no need Air Compressor. And the Maintenance is a few cost. And the reliability is higher than the other suppliers machines.
simple assembly : Our machine is with different designs, we combine Face Mask Ontology Machine+ Ear loop welding machine (ear band spot welding). So you do not worry about the problem of component damaged and the machine adjustment and machineˇ¦s training after you receive the machine. You just need to do simple assembly after you receive the machine and then you can start mass production.
no need a lot consumables : As we know, the machineˇ¦s design of the other suppliers need a lot consumables. Our machine does not need a lot consumables.
Full automatic : This mask making machine is mainly used for automatic forming of flat masks, driven by the roller after unwinding the whole roll of cloth, and the cloth is automatically hemmed and wrapped. Nose clip whole roll traction unwinding, after cutting to a fixed length, it is introduced/fed into the edging cloth, and two sides are welded to the sealing by ultrasonic waves, and then the ultrasonic side sealing is performed by the cutting with a cutter. The mask is conveyed to the rotating earband welding through an assembly line, and the final mask is formed by the ultrasonic welding. After the mask is manufactured, it is conveyed to a flat belt line for collection.
Specifications:
-Production specifications: Standard mask type (Size:175 * 95mm)
-Applicable material specifications:
ITEMs

Feeder Q'ty

Width (mm)

Coil OD (mm)

Barrel ID (mm)
Weight

Non Woven Fabric/

Meltblown Cloth

4
175~200
Dia. 600
Dia. 76.2
Max 15kg

Nose clip steel wire covered plastic / pure steel wire / full plastic

1
3-7
Dia. 400
Dia. 76.2
Max 25kg

Earband

4 bags
175*3

(

diameter)
N/A
N/A
N/A

Wrapping

4 bags
20
Dia. 455
Dia. 38
Max 10kg
Examples of material selection:
1ˇBPP spunbond PPSB-200mm * 36g (inside of your face)
2ˇBMelt-blown175mmX18g
3ˇBPP spunbond PPSB-175mm * 18g (outside of your face)
4ˇBSuggested Nose Wire: 3.00mm * 0.80mm (Diameter 3~3.8mm)
The above 4 items should be prepared by the buyer.
video:
Factory View:
Relative Equipment: