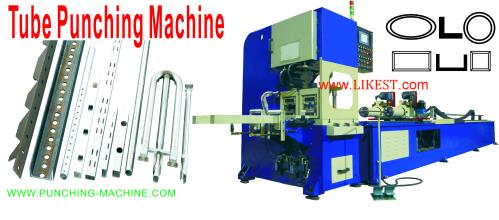 single Cylinder Tube Punching Machine
Dual Cylinders Tube Punching Machine
Specification (SPECIAL DESIGN IS WELCOME)
Our machine has an Auto feeding Function for the materials. Forward and Backward the materials is moved by Servo Motor. You can adjust the punching speed and the feeding speed faster or slower.

Punching Motion types:

2-1. Single Punching Operation

2-2. Irregular Interval Punching (You can set irregular Center to Center distance [pitch] between holes)

2-3. Regular Interval Punching. (You can set regular Center to Center distance [pitch] between holes)

Operator Interface Terminals (HMI: Human Machine Interfaces) > Configured HMI Systems (Configured Industrial Panel with LCD, Touch screen [Touch TFT LCD Screen])

Controller: NC (Numerical Control), Automation

Production Cycle: about 2 seconds (The other factory conditional Punching need 6 seconds above)

Positioner: Servo Motor, with MEMORY SAVE POSITIONS function.

Hydraulic Motor Power: 7.5HP

Max. Stroke Length:150mm (Stroke Length can setting in any position)

Throat Depth: 600mm

Table Adjust Distance (Front-Back): 150mm (SPECIAL DESIGN IS WELCOME)

Servo Feed-in Positioner Frame for Material Length: 3000/4000/5000/6000/8000/12000 mm (SPECIAL DESIGN IS WELCOME) for Different variable Lengths of the materials

Material Feeder/Bar Feeder/Feed-in Length: 2000mm (SPECIAL DESIGN IS WELCOME)

Punching Main Machine Dimension (Apr.): 1300*800*2000mm (L*W*H) SPECIAL DESIGN IS WELCOME

Machine (Net Weight): 6800 kg for 6 meter machine

Hydraulic Punching Pressure: 17Ton/30Ton/50Ton/60Ton/80Ton/100Ton (SPECIAL DESIGN IS WELCOME)

Special Punching Function:
ˇ@

ˇ@

(A) Non-Equidistant Punching Holes

(B) Equidistant Punching Holes

(C) Single Punching Hole

(D) Any Hole can be punched in 2D (X-Y axis) position AUTOMATICALLY NEW Function (OPTION)
Features
TFT HMI (Human Machine Interface) LCD display ,touching controllable screen setting, digital control systems, servo motor positioning dimension precision, attached with modular memory functions.

Structure: The machine body frame is designed with the composite assembly with robust and endurable spare parts.

Operation Function: Jogging/automatic Functions

Engineering Motion Classification:1、single punching operation, 2、irregular interval punching ,3、regular interval punching

Hydraulic Oil System :step-less operation adjustment ,hydraulic loops designed with zero load ,combined with extremely low frequency hydraulic oil pump motor ,effectively reduced noise , increased motor efficiency and service duration

Whenever the hydraulic oil cylinder is moving downward , the machine is designed with featured like low RPM. It is also featured with high speed down ward moving ,low-speed processing and hi-speed position resume so that it is available to increase the formation stability of work pieces during puncturing.

The electrical control system is designed with the Human Machine Interface.The distance adjustment is designed with scaling positions, start distance marks, low speed position marks, and low extremity position .it is available for precise and comprehensive operation.

Hydraulic Cylinder Stroke 150mm (Stroke available for positioning)the mold set is designed with 600mm in depth available for forward and backward 150mm moving accessibility .Our machine is designed with the Italy –made digital scale (LCD Display => option) with high precision.

Application : C CHANNEL / Octagon Tube / Rectangle Tube / Square profiles Tube / Round Tube / Circle Tube / I-Beam / H-Beam / Flatbar / Ellipse Tube / Angle Steel / U-profile / U-Beam / Perforation / Angle steel ,grooved steel and flat steel cutting (45˘X)and puncturing

Servo Position Frame Length :3000mm Feed –in Frame Length:2000mm (Standard)

Body:1500mm (L):6500mm (W):2000mm (H)Total Weight: 6.8T
Punching Working Table movable (OPTION)

ˇ@
Applications (SPECIAL DESIGN OR BIGGER PRODUCT SIZE IS WELCOME)
Plates-punching and cutting machines for Telecom Tower, Mast, Monopole, BTS Shelter, OF Cabling, Transmission Tower Structural Members Manufacturing Plant, MOBILE SHELVING SYSTEM, Bed, Furniture, Scaffolding (Ring Lock & CUP Lock, Tours, Frame Systems, Table type, Props, Accessories), LADDERS, truck body builders, display stand, metalworking industries manufacturing for Automotive Manufacturing,Gas Stove, power energy and electrical wire distribution, Racking and Shelving and base of your Custom Signs, Electronic Displays, Resorts & Casinos, Outdoor Media and Repairs & Maintenance, high volume and different purpose punching for Rectangle Tube/Round Tube/Circle Tube/Square Tube/Ellipse Tube/Perforation and much more......
For 12meters length materials (Beams, Flat Iron & Angle Steel....), application for Electricity Tower/Electricity Pole/Electrical Tower/BTS Tower/Lighting Pole/Transmission Tower Structural Members Manufacturing Plant, Metal Scaffolding Making Forming Machine......
Round Tube: 1"~6inch (25.4 ~150mm)

ˇ@

Square Tube: 25*25~106*106mm(1"~4.17inch)

ˇ@

Rectangle/Oblong Tube: 20*40~75*130mm

ˇ@

Ellipse Tube:

20*40~75*130mm

Electricity Tower/Electricity Pole

Metal Scaffolding Making Forming Machine READ MORE
RACK SYSTEM
Ladders
Metal Scaffolding Making Forming Machine READ MORE
Fence/Fencing/Windows

solar panel stand