Video: With SASO (Saudi Arabian Standards Organization) and CE Approval.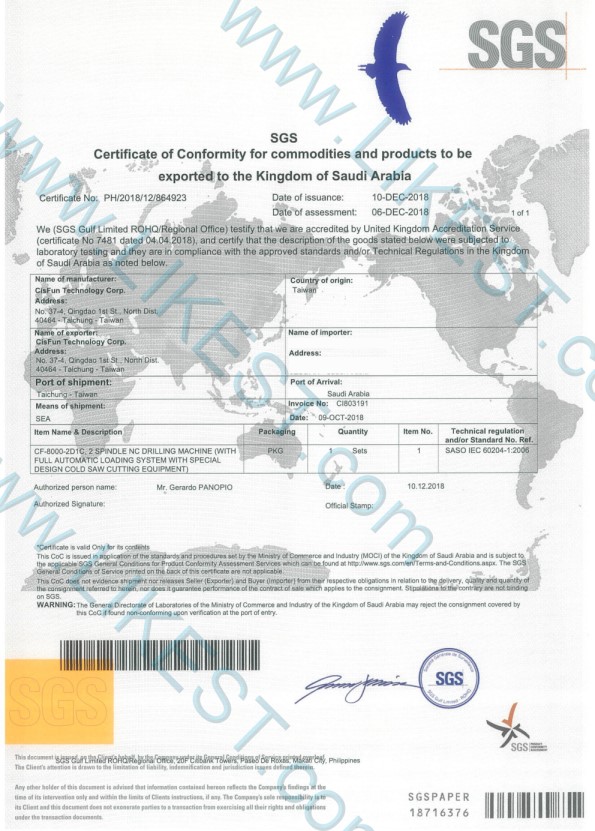 Specifications:
Main Drilling Machine:
1. With 4 sets Drilling Spindle.
2. The Drilling Spindles can move on the slide (Left/Right spindle moves UP-DOWN on the Z axis direction) : You can drill the holes which are not at center of the tube.
3. At the drilling station, there is a tube clamping device in the Z axis direction (vertical) to hold the tube before drilling.
4. Applications: Rectangle Tube / Round Tube / Circle Tube / Square Tube/ Angle Steel and Flatbar…
5. Automatic Drilling
6. Two Horizontal Drilling Spindles have software function to off (disable) either one of it.
7. The supporters and gripper can handle a short tube 3 meters (manual load) for drilling multiple holes by NC program. The minimum tube length that the machine can handle is 3 meters.
8. The stopper determine the origin point
9. Servo motor variable feed speeds: we can offer you the highest Servo Motor feeding speed at 20meter/minute (Running without the tube). And you can also adjust slower feeding speed when you drill the heavy tube.
Automatic Tube Feeding Function by NC Control:
1. The automatic loading's input table: it can put 100x100mm square tube * 17 pcs
2. Put the tube surface that you need to drill on the loading table BY MANUAL. Then to drill holes on the wide surface of rectangular pipe is ok.
3. Autoloader (Automatic loading) Maximum Tube Length: 8 Meter
Special Design Advanced Type Mild Steel Tube Cold Saw Machine:
1. The cold saw machine can cut with the drilling at the same time (in the suitable length). The tube can be moved to the cutting machine's suitable cutting position by the same SERVO MOTOR (On the Tube Feeder) automatically.
2. Various Multiple Angles Cutting
3. The rotation angle is 45 degree one side and 30 degree on the another side
4. Multiple Sections Cutting
5. Manual mode test cut to check angle
6. Finished Good Length: 0.1~4 meter
7. Suitable for steel tube cut off, milling saw blades, friction saw blade, disc cutter, disk cutter, shear blade, milling cut off, comparison of burr.
Unloader:
1. Will be able to push the tube to output table.
2. Unloader is to push the tube by the pneumatic cylinder
3. Length: 4000 mm